Serhii Zaitsev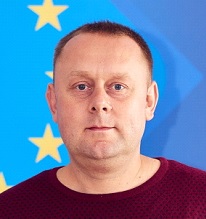 Doctor of technical sciences, professor (specialty 05.13.06 - "Information technologies"),
Leading researcher of the Institute of Telecommunications and Global Information Space of the National Academy of Sciences of Ukraine,
Professor of the Information and Computer Systems Department of the Chernihiv Polytechnic National University,
University professor, dr hab. inż., Katedra Systemów Informatycznych, Kielce University of Technology (Politechnika Świętokrzyska)
Email: serza1979@gmail.com, szaitsev@tu.kielce.pl
H-index = 3
SCOPUS ID: 56673709400
ORCID
In 2001, he graduated with honors from the Kyiv Military Institute of Management and Communication, majoring in information security in special information systems. Awarded the qualification of information security engineer, officer of military management of tactical level.
From 2001 to 2011 - service in the security agencies of Ukraine and the State Service for Special Communications and Information Protection of Ukraine (officer).
Since November 2, 2011, he is an associate professor of the Department of Information and Computer Systems of Chernihiv State University of Technology.
From 2011 to 2014, he was a doctoral student at the Chernihiv National University of Technology.
From 10.2014 to 12.2015 - associate professor of the department of information and computer systems of Chernihiv National University of Technology.
From 01.01.2016 to 06.30.2019 - Head of the Information and Computer Systems Department of Chernihiv National Technological University.
From July 2019 to the present, he is a professor at the Department of Information and Computer Systems at Chernihiv National University of Technology.
In 2009, at the Military Institute of Telecommunications and Informatization of NTUU "KPI" of the Ministry of Defense of Ukrainedefended a thesis for the degree of candidate of technical sciences on a special topic.
In 2016, the doctoral dissertation "Methods and models of ensuring the constant reliability of information in wireless data transmission systems" was defended in the specialty 05.13.06 "Information technologies" in the specialized scientific council D 26.204.01 at the Institute of Problems of Mathematical Machines and Systems of the National Academy of Sciences of Ukraine.
Received diploma of Doctor of Technical Sciences in September 2016 (diploma DD No. 005932 dated 09/29/2016).
In September 2016, he was awarded the academic title of associate professor (AD certificate No. 000028 dated December 13, 2016).
In May 2018, he was elected a corresponding member of the Academy of Technological Sciences of Ukraine, majoring in information technology and technology management (diploma No. 559 dated May 18, 2018).
In August 2022, he was awarded the academic title of professor (Order of the Ministry of Education and Culture No. 724 of August 9, 2022)
Has 11 works of an educational and methodological nature.
He has 110 scientific works in the field of multi-level interference-resistant coding, construction of adaptive information and computer systems, information transmission in channels with an increased level of noise and interference.
Has a B2 English language certificate.

The most important scientific works:
⦁ Development of adaptive expert system of information security using a procedure of clustering the attributes of anomalies and cyber attacks/ Lakhno, V., Tkach, Y., Petrenko, T., Zaitsev, S., Bazylevych, V. // Eastern European Journal of Enterprise Technologies, 6/9 (84), 2016. - P. 32-44. (Scope)
https://www.researchgate.net/publication/312270603_Development_of_adaptive_expert_system_of_information_security_using_a_procedure_of_clustering_the_attributes_of_anomalies_and_cyber_attacks
⦁ Zaitsev SV Structural adaptation of the turbo code coder and decoder for generating the transmission repeat request under conditions of uncertainty / SV Zaitsev, VV Kazymyr // Radioelectronics and Communications Systems. - Springer, 2017. - Vol. 60. – P. 18–27. (Scope)
https://link.springer.com/article/10.3103/S0735272717010034
⦁ Zaitsev SV Adaptive selection of parameters of s-random interleaver in wireless data transmission systems with turbo coding / SV Zaitsev, VV Kazymyr, VM Vasilenko, AV Yarilovets // Radioelectronics and Communications Systems. – Allerton Press, Inc. - New York, 2018. - Vol. 61. – P. 13–21. DOI: 10.3103/S0735272715050039. (Scope)
https://link.springer.com/article/10.3103/S0735272718010028
⦁ Kazymyr V. Adaptive turbo codes for safety in wireless Internet of Things / Kazymyr V., Zaitsev S., Vasylenko V., Usik A. // The 9th IEEE International Conference on Dependable Systems, Services and Technologies, DESSERT'2018. – 2018. – P. 195 – 200. (Scopus)
https://ieeexplore.ieee.org/document/8409125
⦁ Lakhno V. Adaptive expert systems development for cyber attacks recognition in information educational systems on the basis of signs' clustering / Lakhno V., Zaitsev S., Tkach Y., Petrenko T. // Advances in Computer Science for Engineering and Education. - 2018. - Vol. 754. – P. 673–682. DOI: 10.1007/978-3-319-91008-6_66. (Scope)
https://link.springer.com/chapter/10.1007/978-3-319-91008-6_66
⦁ Zaitsev S. Retransmission Request Method for Modern Mobile Networks / Zaitsev S., Vasylenko V., Trofymchuk O., Tkach Y. // Mathematical Modeling and Simulation of Systems. – Springer (Part of the⦁ Advances⦁ in Intelligent Systems and ⦁ Computingbook series (AISC, volume 1019)). – Selected Papers of the 14th International Scientific-Practical Conference, MODS, 2019 June 24-26, Chernihiv, Ukraine. – 2019. – P. 113 – 121. (Scopus)
https://link.springer.com/chapter/10.1007/978-3-030-25741-5_12?noAccess=true
⦁ Andrushchenko R. Method of Encoding Structured Messages by Using State Vectors / Andrushchenko R., Zaitsev S., Druzhynin O., Shelest M. // Mathematical Modeling and Simulation of Systems. – Springer (Part of the⦁ Advances⦁ in Intelligent Systems and ⦁ Computingbook series (AISC, volume 1019)). – Selected Papers of the 14th International Scientific-Practical Conference, MODS, 2019 June 24-26, Chernihiv, Ukraine. – 2019. – P. 144 – 153. (Scopus)
https://link.springer.com/chapter/10.1007/978-3-030-25741-5_12?noAccess=true
⦁ Zaitsev SV Optimization of Turbo Code Encoding/Decoding for Development of 5G Mobile Communication systems / S. Zaitsev, N. Sokorinskaya, V. Vasylenko, O. Trofimchuk, Y. Tkach// Radioelectronics and Communications Systems. – Allerton Press, Inc. - Springer, 2021. - Vol. 64. - P. 440-450. DOI: 10.3103/S0735272721080045. (Scope)
http://radiolektronika.org/article/view/s0735272721080045
⦁ Zaitsev S. Adaptive selection of turbo code parameters in wireless data transmission systems / Zaitsev S., Vasylenko V., Tkach Y., others // Mathematical Modeling and Simulation of Systems. – Springer (Lecture Notes in Networks and Systems). – 16th International Scientific-practical Conference on Papers of International Scientific-Practical Conference on Mathematical Modeling and Simulation of Systems, MODS, 2021 June 28-July 01, Chernihiv, Ukraine. - 2022. - P. 253-262. DOI: 10.1007/978-3-030-89902-8_20. (Scope)
https://link.springer.com/article/10.3103/S0735272718010028