Nicola Casagli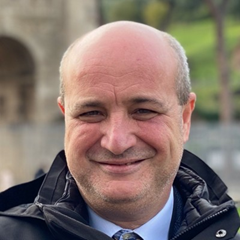 SUMMARY
Professor of Engineering Geology at the University of Florence, Earth Sciences Department. Degree in Geology, MSc in Engineering Rock Mechanics at Imperial College of London and PhD in Engineering Geology. Expert of geological hazards and ground instability, monitoring technology, engineering geological characterization and modeling. Former head of the Department of Earth Sciences and past member of the Academic Senate of the University of Florence. Head of the Centre of Competence for geo-hydrological hazards at the University of Florence and member of the Major Risks National Committee of the Department of Civil Protection of the Italian Government. President of the Civil Protection Centre of University of Florence. Founder and Vice President for Europe of the International Consortium on Landslides (ICL). Member of the World Centre of Excellence on Landslide Risk Reduction of the International Programme on Landslides.
Vice President of the International Consortium on Geo-disaster Reduction (ICGdR).
Founder and Associate of the UNESCO Chair on Prevention and Sustainable Mitigation of Geo-hydrological Hazards. Adjunct Professor of the UNESCO Chair on Geoenvironmental Disaster Reduction at by Shimane University (Japan). Awarded with the Order of Merit of the Italian Republic (4th Class Officer). Honorary Fellow of Misericordia di Firenze (the oldest voluntary organization in the world). Author of more than 500 scientific publications and holder of 4 industrial patents.
CURRENT
Professor of Engineering Geology POSITION University of Florence, Department of Earth Sciences
WORK EXPERIENCE
since 2005 Full Professor of Engineering Geology University of Florence
2000-2005 Associate Professor of Engineering Geology University of Florence
1996-2000 Researcher of Engineering Geology University of Florence
1995 Visiting researcher Imperial College London
1994-1995 Post-doc fellow University of Florence
1994 Scientific collaboration National Research Council
1990-1993 Scientific collaboration University of Florence, Department Earth Sciences
EDUCATION AND TRAINING
1995 Course in Soil Mechanics e Engineering Seismology Imperial College London
1991-1994 PhD in Engineering Geology University of Ferrara
1991-1992 Diploma of Imperial College - DIC Imperial College London
1991-1992 Master of Science - MSc in Engineering Rock Mechanics Imperial College London
1984-1989 Degree in Geology University of Florence
CERTIFICATIONS
2002 Qualification for full professor of Engineering Geology Ministry of Education University and Research
1999 Qualification for associate professor of Engineering Geology Ministry of Education University and Research
1991 1st Airman - Military Service Ministry of Defense
1990 Chartered Geologist (CGeol) Qualification to the professional practice as Geologist National Council of Geologists
PUBLICATIONS
Publications = 432
Citations = 7681
h-index = 45
ilO-index = 152
Total publications: 558
- Journal article: 203
- Journal abstract: 59
- Book chapter: 92
- Short introduction: 1
- Conference proceedings: 123
- Abstract in Conference proceedings: 54
- Book: 9
- Edited book: 6
- Patent: 8
- Map: 1
- Other: 2